The perfect Sunday…
The perfect Sunday is definitely a roast cooked by somebody else, paired with friends and family around the dinner table and a quality bottle of red wine. If you make it a visit to us, you won't even have to worry about the washing up.
We believe in only serving the good stuff; free-range beef, lamb or pork, crispy, fluffy roasties and a well-risen Yorkshire pud. Plus roasted roots, tureens of green vegetables, sauces on the table and jugs of gravy. We'll even serve you a good helping of crumble at the table if you've got some room for pudding. Don't just take our word for it, hear what our guests had to say.
We'll see you on Sunday.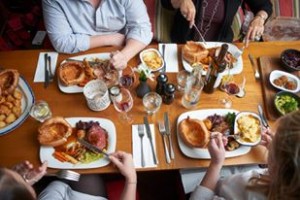 "Congratulations to Alex & the team, The Swan is back to its best"
Having visited The Swan for the second time within 2 weeks, I can say that The Swan is back to its best. Yesterday I had Sunday lunch there with my wife. We were greeted by the friendly staff as soon as we walked in & given a choice of tables. The menu is excellent and there is a good choice of specials which change daily. We both chose the king prawn salad from the special menu. For mains I went for the roast rib of beef with all the trimmings, and my wife had the fish. Followed by deserts and coffee. There is a good selection of wine & different gins. The Swan has its buzz back again. The food first class. Thanks.
"Best roast dinner in MK apart from our house"
Was looking for a place to have Sunday lunch last weekend. All the usual places were booked up as it was short notice but came across the Swan at Salford in my search. Booked a table online which was easy.
Arrived from the front you don't notice the large car park around the back.
There was 5 of us and we were seated on a round table so much better for this number of people. As it was Sunday we all had roast beef. We were greatly encouraged when the waitress asked us how we wanted the beef cooking. This was taken into consideration and we all had pink roast beef. Portions were plenty. We had some additional sides of cauliflower cheese and stuffing too. All was delicious.
For dessert I had the cheese plate for one. This was good but too much for one person. I shared mine.
Overall this has to be the best Sunday lunch we have had inMK. Definitely, recommend it and look forward to trying it in the evening soon.
'Sunday Lunch'
Lunch with friends was delicious! We had bangers and mash, traditional roast lunch and sole filet. Great lunch with great friends!
'Sunday Lunch'
We shared the veggie and fish platters for a start which in the words of Libby who is 8 was so yummy!!
We all had a roast. The pork was delicious and the nut roast also excellent. That with good veg and extra gravy made for a lovely lunch. We would recommend this. Those drinking the wine said it was delicious.