Have you met Harry?
Why did you decide to become a chef and how did you start the ball rolling?
When I grew up my mum owned a wedding cake business and that's where I took my key interest in cooking. When I was about 15, my best friend worked at the conference centre near my hometown and suggested the trainee chef position, and that's where it began.
Who has been your greatest inspiration during your career?
My Mum, sounds cute and cheesy but it's true, she kept me going through training at severall restuarants, and giving me the drive I needed to keep going. Other than her, food inspirations; chefs like Micheal Caines, Sat Bains, Raymond Blanc, Tom Kerridge and Nathan Outlaw.
If you're hosting a dinner party at home, what would you cook?
I would cook everything considered bad for you, I love hearty food, rich flavours and indulgence.
My ultimate meal for a dinner party would be a massive classic roast dinner.
What words of wisdom would you give to a new chef starting out in their career?
Head down, mouth closed and ears open, you'll do well. Kitchens works in ranks, respect your seniors otherwise you won't get anywhere.
Thing you won't eat?
I'll eat most things, however not a massive fan of cucumber or fresh tomato. 
What's your biggest achievement?
Becoming a Head Chef at 23. 
When are you happiest at work?
When there's good music on, everyone in the kitchen is buzzing on the atmosphere of an amazing service that day, the positive energy of chefs cooking food they've pushed to do, specials to show off their skills as well. I love the fact that chefs will ask me something they haven't done before and I can make it happen, sometimes there's things I haven't done, so it's a great bonding session between the kitchen. The kitchen is like a big family, we look out for each other and make our lives easier while still doing great food.
Are there any cooking styles you favour more?
I don't really favour a particular cooking style, I enjoy new styles I haven't done before, new methods and different products, keeps it interesting and on my toes!
 What's your favourite recipe to make?
 I love pastry, I really enjoy making parfaits, mousse, chocolate work. But overall, my favourite all time recipe, was a previous dessert I did at the Black Horse, Salted Peanut & Caramel Parfait, Confit Lime & Caramelised Banana.
And finally, why do you stay working for Peach?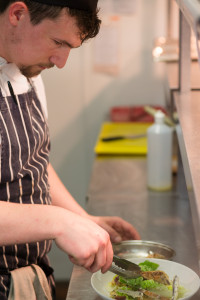 Because Ben Paul twisted my arm…
No, seriously… I know I can grow in my career with Peach, I work closely with Ben, we keep it refreshing and look for the next best thing, makes me have a more of an understanding of running a pub, the Swan is my second pub, I don't plan to stop… not just yet.