Business Meetings
Free wifi, laptop compatible presentation facilities, Union Hand-roasted and delicious food served all day.
Why not use the pub for your next business meeting? The new guidelines allow us to welcome pre-booked business bookings of any size, as long as the space allows. Where we can, groups will be spaced on slightly larger tables, and where possible, we will book meetings in our private dining room.
From business breakfasts, to lunch meets and early dinners, talk to us about your next meeting.
To comply with the guidelines, because business meetings occur between guests from different households, all business bookings, no matter how big or small, must be booked via reservations@peachpubs.com or through an online form enquire here. We will only take enquiries from a business email, and will require information on the meeting reason, and details of all guests attending.
We look forward to welcoming you soon!
---
Private Dining & Business Meetings 
When safe to do so, we know everyone will be looking forward to meeting up with friends and family, and toasting missed celebrations once again. Please enquire for any events in 2021 so we can look at provisionally holding your date. Our private dining space is perfect for a breakfast, lunch or dinner party. As we follow guidelines on party bookings, we will ask that you too observe the advice the Government give.
We request that all bookings respect the current guidelines on party bookings and small gatherings, and must be compliant at all times. Call us or fill in an enquiry form to see what we can do for you.
Avoid the traffic and park with ease, let us host your next event in our Private Dining room.
Social or professional, a dinner or a do, come and find out what we can do for you.
From business breakfasts to birthday BBQ's, full day conferences or the perfect dinner party, let us do the hard work and look after your event. With free Wifi and laptop compatible presentation facilities, and fully controllable music, we can cover every event from business to party. Leaving the only decision you have to make on the day is what to choose as your well earned beverage!
Great Meetings Happen In Great Pubs
Located just off the M1, The Barn is a great venue for all your business needs. Whilst it may feel off the beaten track, it's just 20 minutes away from Milton Keynes Business park, so you'll be undisturbed by the daily hustle and bustle of normal working life. The space is versatile, with break out areas and a range of facilities to support your event. The Swan has a large car park and also offers WI-FI, a flat screen TV with laptop connection, flip charts, pens and stationery. Let us know if there is any other equipment you may need, and we will do our best to source this for you.
Packages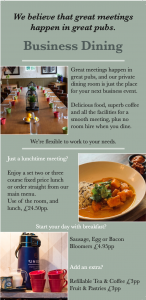 The Barn is the perfect venue for all celebratory occasions, whether a small intimate get together or a larger celebration. From weddings to birthday lunches, cocktail and canapé receptions to christenings, we're flexible to suit your needs. Our skilled team can work with you to tailor a menu for your event, focusing on seasonal ingredients. Speak to one of our team today about what we can do for you.
See an example of our layouts below;
Get in Touch
Our team is friendly yet professional and will be with you every step of the way. Hosting a dinner party is what we do best, so we'll make sure we understand your needs and promise an event you'll remember. If there's something more you need, just let us know. Whether it's a birthday cake, local florist or car parking details.
Fill an enquiry form in today to get a guaranteed response within the next 72 hours.