Peach & our pub
Peach is a collection of really great pubs, mainly in market towns in the heart of England. We serve good quality, fresh, honest food in relaxed, welcoming environments. Always with a kind word and a sense of fun. We've always been passionate about giving back and as we've developed and grown over the years, our ability and motivation to make the world a little better, a little peachier, has grown with us. The Bigger Peach shows our efforts to improve communities, equality in the workplace and the future sustainability of our world.
The Swan Salford is an attractive Edwardian pub in a lovely village setting, 10 minutes from central Milton Keynes and just 1 mile from junction 13 of the M1. It's perfect for a drink after work and as somewhere to meet, eat and drink with friends. The Swan combines top quality pub food with modern brasserie dishes. We serve food all day. Drink quality draught beers, ale on hand pump plus a carefully chosen wine list with quality variety value. Meetings & private dining available.
Our Buckinghamshire gastropub is open every day from 10am with hot food available all day. We take huge pride in serving the best ingredients we can find, from ethical producers, freshly prepared by our chefs. Whether you pop in for a pint, a business lunch or a special dinner, we promise you a friendly welcome. All day long.
We are just a short drive from Central Milton Keynes in the pretty village of Salford. It is also closest to J14 of the M1 and five minutes from the major tourist attraction of  Woburn Abbey. Find us here.
We look forward to seeing you soon!
Lianne & the team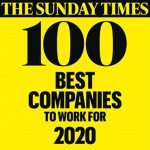 ---

Lianne Sargent, General Manager
Lianne's career started at the tender age of 5 as a glass collector for her parents, so hospitality runs strongly through those veins! After briefly flirting with the idea of becoming a lawyer or interior designer, she decided to stick to what she knew best, and her amazing career continued, working in only top-quality pubs, restaurants and boutique hotels. When she's not working she's organising friends and family to come together to eat something delicious both out and at home. Italy is one of her personal favourites and put a glass of wine or prosecco and a big bowl of pasta or fresh fish in front of her and she's a very happy lady.
Lianne's is fiercely passionate about the detail, and brings energy and drive to her team, challenging everyone to push for the very best every time. She's an excellent trainer and would love to one day run several pubs for Peach. With her beaming smile and that glint in that eye, you know Lianne is in the room, so pop in for a glass of fizz and a darn good plate of food soon, and if you look closely enough, you might just see that her socks are inside out – a strange but true fact!
---
Frazer Sutherland, Partner

Frazer always wanted to be in hospitality since 'year dot'. Dabbling in domestic science at school only fuelled his passion and catering college sealed his fate. He loved working at The Summit in Sydney and cruising round the Caribbean. Back in London, he clubbed it at The Green Room, now Chinawhite, before moving to Harvey Nicks Fifth Floor. Heights must have suited Frazer because his next job was at The Oxo Tower, when the brasserie with the bird's eye view of London was really flying. Since becoming a partner in Peach in 2008, Frazer has looked after many of our pubs including, The Thatch, The James Figg, The Swan and The Black Horse. 
---
Ben King, Head Chef
Meet our head chef, Ben. Having been born and bred in Milton Keynes, he has now retreated to the quiet country life of Winslow. Ben's career path was decided when he was 8 years old after seeing a chef at Disney Land in brightly coloured chef's trousers. He thought to himself "I want to do that for a living if I get to wear those!". This childhood dream transpired into Ben getting into catering from the young age of 14 where he loved the buzz of being a chef – despite the trousers not being colourful. It's safe to say we are lucky to have Ben as our head chef as he has had many successes in his career; cooking for David Cameron, Boris Johnson and celebrity weddings. Alongside this, he has also done larger catering events at Red Bull F1 racing teams BBQ's. After all these highlights, Ben chose Peach because he knew the company but also loved our ethics and values.
When Ben isn't in the kitchen, he can be found with his family and dogs, normally walking in the fields or sneaking away to dust off his clubs and get in a cheeky round of golf. But after all that he will be back in front of the stoves at home cooking away for family and friends.
---
2020 – OUR TIME IN LOCKDOWN 
As we entered lockdown, our first concern was everyone's wellbeing and their ability to support families in such unprecedented times. Peach have been great in helping our team, with access to our hardship fund, zoom quizzes, online DJ sessions and masses of social contact, keeping us all in touch. Some of the pubs helped with Your Hub, a Social Enterprise to support the local community. From feeding homeless, to Youth support centres, NHS call centres, hospitals and  care homes. Read more of what the Peach team have been up to here.
The Swan team certainly keep themselves busy during lockdown so I thought we'd share our lockdown stories.
And as we are getting closer to being back with all you all, I thought it might be a nice opportunity to share our lockdown stories into what we've been up to whilst the pub's been closed.
Joe smashing an awesome 18.6 mile bike ride round some of our local villages and taking his dog Scooby out for some more leisurely walks!  Joe had a lockdown birthday this year, Happy Birthday Joe.
Danio has also been checking out the walks in and around Bedford including the beautiful church at Foster Hill in Bedford Park.  Keeping in touch with his family with their weekly zoom quiz and he's been baking up a storm, this Peach Meringue HAS to go onto the opening specials board! Before packing up the kitchen equipment and getting ready to finally move house next week.
Christine has been out exploring Aspley Woods after moving to the area at the start of the year and has used the time to socially distance get to know her new neighbours.  She's kept up baking some fantastic cakes after the national flour shortage, and is currently learning French and embroidery! Christine also had a lockdown birthday this year, Happy Birthday Christine. 
Chris has got quite a few new additions to his family this year. From making a new enclosure and play park for his many feathered friends, how good does that look. Just before lockdown he had fantastic news that he and his girlfriend are expecting a baby, and during lockdown has found out its a boy due in September! We can't wait to meet him!
Ben also managed to hunt down some flour, and yeast, and currently has a sourdough starter on the go called Big Bertha!  He's been looking after his little boy, who has learnt to walk during lockdown, making the dog walks through the fields a much slower process.  Check out the amazing garden fence he has also put up on his own.
Palma has been busy studying for uni and fuelling the reading with the amazing brownies she made, yum! Keeping The Swan in her mind by growing mint for all the mojitos she's enjoyed in the sun. She was another one of our lockdown birthday's this year, Happy Birthday Palma!
And that leaves me, I've been painting and baking, gardening, home schooling and relaxing. Lots of walks with Cooper, iced coffee and books in the sun, we bought a trampoline so Grace has been bouncing (that counts as a PE lesson right?) Grace's room had a mini makeover and I turned a spare bedroom into a dressing room (don't count the shoes!) Currently we are building a Pergola and new patio in the garden, but will I finish before going back to work!?