Summer at the Swan
We love a good review, so when we see one we want to rave about it!
Food blogger, Jo, recently made a visit to our 'modern, cosy, country' pub in Salford. Along with many others on this sunny Summers day!
After going for fish based starter and mains, the Iced Strawberry Parfait dessert seemed to be a firm favourite  – especially with the scattered ginger crumbs.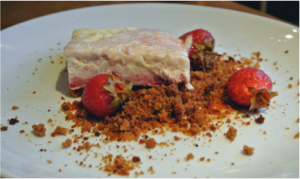 As always, we were sending out our Peachy vibes – 'I saw lots of smiles and warm comments as they visited each table, making it a very friendly pub to be in and keeping the experience relaxed' says Jo.
And although Jo missed out on our Lobster specials – there is always next time! Nicely done, team!
If you fancy reading more, you can read the full blog here