Those ever so special Jersey Royals…
A couple of weeks ago, I was lucky enough to be invited on a trip to Jersey by our fruit and vegetable supplier, Reynolds. I joined two of Reynolds development chefs Ian and Diane, and a few fellow restaurant chefs, for a fabulous day learning about all things posh spud!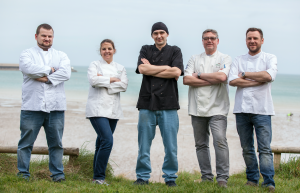 Jersey, the small 45 square mile British Isle is famous for its finance, dairy cows, and the humble Jersey Royal potato. The Jersey Royal is the only potato that carries the EU Protected Designation of Origin mark of authenticity. This was awarded in part, as a recognition of the unique methods of production. At this time of year, Jersey's land is mainly covered in plastic, with hundreds of thousands of potatoes underneath doing their thing.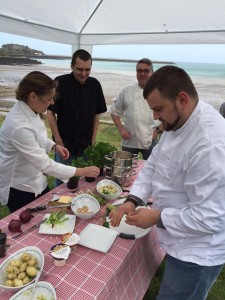 We visited the Jersey Royal Company, who produce 75% of Jerseys potatoes, and who also supply Reynolds.  Our day began at the warehouse, where they seed rows and rows of potatoes, waiting for them to sprout. Interestingly they knock off the sprouts by hand to encourage more to grow, increasing the yield. Once they have sprouted, they are hand-planted in the fields, and after 15 weeks are dug by hand, by a team over over 500 people. They spend their first 9 weeks covered, and are only uncovered for the last 4 weeks in the ground.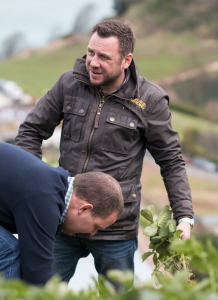 Once dug, they head to a plant, where they're sorted into sizes, washed, packed and within a couple of days, on your plate here at the Swan!
Sam Collins, Head Chef